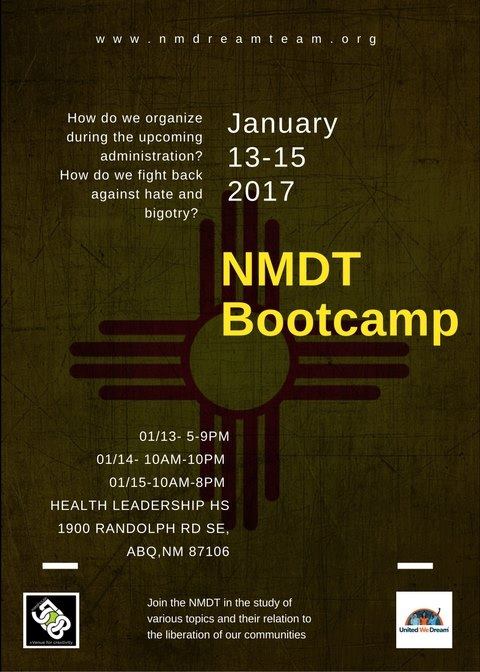 Agenda
Friday Jan 13 2017 (Workshop descriptions bellow)
5:00PM  Introduction to Bootcamp and Icebreakers
Dream Team background

Highlight NM victories

Purpose of the weekend
6:00PM  Banner & Sign Making
7:00PM  Activism 101 Workshop
8:00PM  Preparations for Saturday MLK Parade  
8:50 PM Closing
Saturday Jan 14,2017 
10:00AM  Dr. Martin Luther King Jr. Parade
1:00PM  Press Conference (tentative)
2:00PM  Know Your Rights
3:00PM  Organizing through intersectional, gender, and                            race lens
4:00PM Anti-Racism
5:00PM The role of the organizer
6:00PM Strategizing NMDT Campaign & Closing 
8:00PM Dinner & Social Event @ Warehouse508
Sunday Jan 15, 2017 
(Update: Sunday Agenda delayed by 30 minutes)
10:30AM Intro & Team Building
11:30AM Self Defense  and  UndocuHealing (choose one)
12:30PM Lunch
1:30PM Nusenda Strategizing (Eli)
4:30PM DreamZone  
5:30PM Immigration 101
6:30PM Workshops (following workshops from 6 to 7)
Civics, Constitution, Government

Economics, Economic Systems

Deportation Defense
7:30PM Bootcamp Closing
8:00PM Dinner
Workshop Summary
Anti-Racism-Eduardo & Josue
Brief introduction to critical race theory, creation of race, definitions of racism, white supremacy etc and differentiation of non-racists and anti-racists.
DreamZone (Train The Trainers)- Eduardo & Felipe
The DreamZone Training is a professional development opportunity for educators to become "UndocuAllies" for undocumented students and families. This training has been developed by Undocumented youth to voice their experiences through the higher education system. The New Mexico Dream Team (NMDT) is launching the DreamZone training which has been adapted in part from The People's Institute For Survival and Beyond's Undoing Racism curriculum and United We Dream's UndocuPeers curriculum.
Know Your Rights (Train the trainers)  
Learn how to facilitate trainings and inform your community about their rights. This will include sketched scenarios between immigrants and police enforcement to learn the best ways to respond and prevent abuse and injustice.
Undocu Healing-  Josue and Italia
One of the Dream Team's core values is the concept of UndocuHealing; providing a space for Undocumented youth and families to heal not only from the trauma they have directly faced but also from historical trauma passed down from generations of institutionalized violence against our communities/intersectionalities. Through UndocuHealing we embrace our stories and use them as a major tool in countering the dominant narratives found throughout mainstream media and popular culture. This messaging or counter-narrative strategy that we utilize allows power to be shifted to the undocumented community and away from sources wishing to frame immigrants negatively, therefore transforming how participants view themselves and the groups they identify with, not limited to the undocumented community as people and our identities are complex.
Immigration 101- Jazmin will help with curriculum
Brief review of immigration law and policy throughout US American history and the effects it has had historically and through present day migration patterns.
Economics, Economic Systems- Eduardo
Introduction to economics and various contemporary economic systems including capitalism, socialism and communism.
Self-Defense- Livingston
Brazilian Jiu-Jitsu
Activism 101- Italia
Strategies in nonviolence, activism and organizing.
Civics, Constitution, Government- Eduardo
Basic introduction to political processes in the United States, how the three branches of government interact and work with each other and the limits of their respective powers, and the rights and protections established by the constitution and its amendments.
Deportation Defense- LuzHilda
This training is designed to inform members of about the role that they can play in stopping the deportation of their community members. This training provides a step-by-step process on how to successfully intervene in these situations.
Coalition Building- Gaby
Parenting and working with other social justice organizations and groups; how to do it effectively and efficiently.
Team Building- Josue
Activities that foster teamwork, communication and trust.
LGBTQ Organizing- Gaby
Organize and empower Undocumented Lesbian, Gay, Bisexual, Transgender and Queer immigrants, LGBTQ immigrants and allies to address social and systemic barriers that affect themselves and the broader LGBTQ & immigrant community.