Undocumented, Unafraid and Unapologetic!
These words perfectly describe the immigrant community that makes up New Mexico.
This past September, when U.S. Attorney General Jeff Sessions announced the rescission of DACA, many of our members had to face a demon that was hanging over their heads ever since Trump came into power: The possibility of losing their protection from deportation under DACA.
Since that day, everyday that passes, 122 people with DACA are losing protections, according to statistics by our sister organization United We Dream. As soon as March 5th gets here, an average of 915 people will lose protections daily –if no permanent solution if found in Congress. This is nearly 1,000 people that will be immediately find themselves in the line of fire of Trump's mass deportation agents.
There is no doubt DACA changed the lives of more than 7,000 New Mexican undocumented youth and more than 800,000 across the nation since its implementation in 2012. With its termination, these youth were left in a troubling situation that threatens their entire livelihood.
The New Mexico Dream Team put together the following series of stories that show first hand the devastating changes that DACA's termination brought onto the lives of thousands of New Mexicans. The series is intended to demonstrate the dire need for Congress to pass a clean #DreamActNow through telling only a few of the thousands of similar stories in New Mexico and across the nation:
---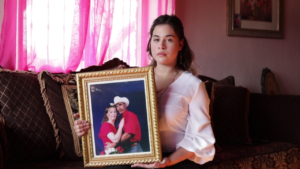 She is an immigrants' rights organizer in Santa Fe, N.M., she is 22 years old and lives in Chimayó. With her DACA set to expire, she feels a mix of anxiety, sadness, and anger. She dreams of a community where there will be no border wall and no deportation for her family, friends, and people she loves.
---
She is a DACA beneficiary, a student at the University of New Mexico Taos campus and worker at her parent's restaurant. Zaide has lived in Taos since she was 3 years old and only knows the United States as her home. DACA has helped her live a full and stable life which has helped her provide for herself, her siblings, and her family.
---
Lizzeth is 20 years old and currently a student of Doña Ana Community College in Las Cruces, N.M. and a DACA recipient. She only has 246 days left until her DACA expires. If Congress fails to pass a clean Dream Act she would be unable to stay here and keep her family together. Her biggest fear right is to be deported and be separated from her family.
---
Felipe and his younger brother and sister qualify for a clean DREAM Act. Felipe is currently a student at the University of New Mexico and hopes that a clean DREAM Act is passed so that he can exercise his degree upon graduating. Felipe's biggest fear is that his parents will get deported leaving him and his little siblings behind in their search for a better life.
---
Sixteen years ago, Irvin Dominguez and his mother came from Mexico into the United States undocumented. Since then, Irving has lived a life in fear; fear of the possibility him or his mother could be deported one day. However, what Irvin fears the most is he, or his mother, having to leave his little siblings behind without anyone to care for them.